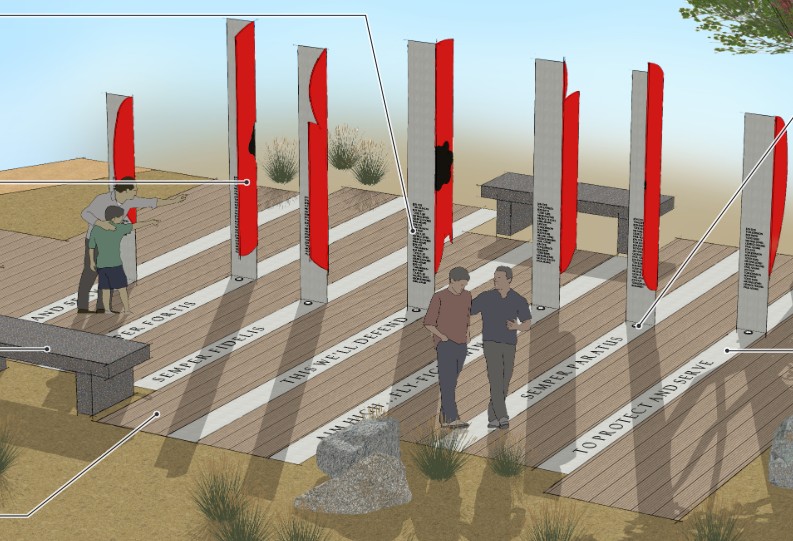 San Mateo is planning to install a memorial in Central Park to San Mateo community members who died during armed conflict while serving in the military, as well as to San Mateo police officers and firefighters who died while on duty.
The design of the Central Park Fallen Heroes Memorial is expected to be discussed at a City Council Special Meeting scheduled for Monday.
An advisory committee formed in 2018 to work on the memorial has included city staff, veterans, retired members of the San Mateo Police and Fire Departments, various Commissioners, and both current and former City Council members. The committee's original vision was to list the names of individuals to be memorialized as opposed to a more universal design honoring local heroes, according to city documents.
Students in the architect program and club at the College of San Mateo helped generate design ideas, and several were passed along to RRM Design Group to be further refined.
Two design concepts have resulted in the student-inspired Meandering Ribbon and an original RRM design by Remembrance Poppy, which "took its inspiration from the red poppy, the national emblem of remembrance that was worn following World War I," city documents state.
The committee is recommending that the council approve the Remembrance Poppy design.
"The design consists of seven vertical stainless steel columns, each containing a segment of the poppy that when viewed from a certain angle, will unite to form a single image," the city said. "Each column will represent a branch of the military (and the San Mateo Police and Fire Departments) with engraved names of those who died in service. A concrete or possibly granite band will be imbedded into the linear pavers with the specific units motto etched in the concrete. Flush mounted uplighting will illuminate the names. Site furnishings will include items such as benches, monument signage, an informational plaque explaining the origins of the Remembrance Poppy and a major donor recognition plaque."
Also, brick pavers could be integrated within some sort of edge treatment or pathway "that could serve as both an opportunity for families to honor the service of a relative, which could provide a means of fundraising."
To read the full article, click here: https://climaterwc.com/2020/10/30/20744/