Our People Make the Place
People first! That inclusive philosophy has inspired the employees of RRM for over 45 years. Quite simply, RRM Design Group promotes a collaborative, diverse, and family-oriented work culture. That is what most find enjoyable about our company, and it's why we retain high employee marks, retention rates, and quality of work.
In 2018, RRM Design Group accomplished the pivotal goal of transitioning to a 100% employee-owned company, further illustrating our commitment to our employees.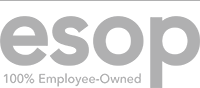 Our People: Leslie, Proposal and Sales Supervisor
Our People: Joe, Engineer I
Our People: April, Senior Landscape Architect
Rachel, RRM Associate Planner I
RRM has been named one of

the
Best Firms to Work For

in the AEC industry!
Zweig Group, 2021
We're In This Together
As employee-owners, we want RRM to be a place where all feel welcomed and can see their own unique path for growth and success. Join us in creating and fostering a space that is inclusive and equitable for all! We're not perfect, but we strive to be the best we can be by living out our core values of respect, inclusion and integrity on a daily basis to create a space where all feel welcome, heard, and respected.
You'll Love it here
In 2021, RRM was chosen as one of the Best Firms to Work For within the AEC industry in the United States and Canada! Zweig Group's Best Firms to Work For Award recognizes AEC firms in the US and Canada based on their workplace practices, employee benefits, employee retention rates, and much more. RRM was ranked in two categories, Firm size (100-200) and Multidiscipline. 
What drives us?
We inspire and support each other through collaboration, respect and innovation to create environments people enjoy.  Having multiple services under one roof, we work together and share ideas to utilize our collective and individual strengths. Our shared ideas and information deliver flexible solutions to our clients and resolve problems effectively. We challenge ourselves to achieve innovative answers for their projects.
Involved in our communities
 Since our inception 45 years ago we have proudly given back to the communities where we live and work. Community giving and outreach is at the core of RRM's culture, value and mission. From the Land Conservancy to Jack's Helping Hand to Habitat for Humanity, we are committed to giving back both time and money to help our communities thrive. This past year, RRM Design Group has donated to the following organizations via our Community Giving program:
Transitions Mental Health
Angels Bearing Gifts
Atascadero Printery
SLO CO Womenade
AIA Santa Barbara
Gravity Water
Ronald McDonald House Stanford
SLO Repertory Theater
Local Youth Football Team
Mahtabe, Inc.
Atascadero Cross Country
SLO CO Bike
Fairmont School Garden
Hope Worldwide
Big Brothers Big Sisters
That's not all; RRM employees are encouraged to take active roles in their communities. Participation in bowlathons, dodgeball tournaments, coastal cleanups, and holiday charity donation programs are commonplace. Additionally, RRM Design Group employees collectively strive to volunteer 1,000 hours annually through RRM's 1000 Hours program.
Working well together
We're a multidiscipline design firm. That means that 130+ design professionals from 6 distinct services call RRM home. We're a highly collaborative group of creative individuals, ranging from Lief who is currently checking out a local playground equipment manufacturer, to Apryl who is intently fine-tuning the CAD model for an updated multifamily project in Santa Barbara. Our service groups frequently interact with each other. On any given day, visitors to our offices will observe our engineers coordinating with architects while landscape architects peer over the shoulders of planners. This close collaboration adds a significant contribution to the overall success of the project.
Architecture

36%

36%

Landscape Architecture

16%

16%

Civil Engineering

13%

13%

Planning

10%

10%

Structural Engineering

5%

5%

Surveying

3%

3%

Corporate Services (Biz Dev, Marketing, Accounting, IT, HR)

17%

17%